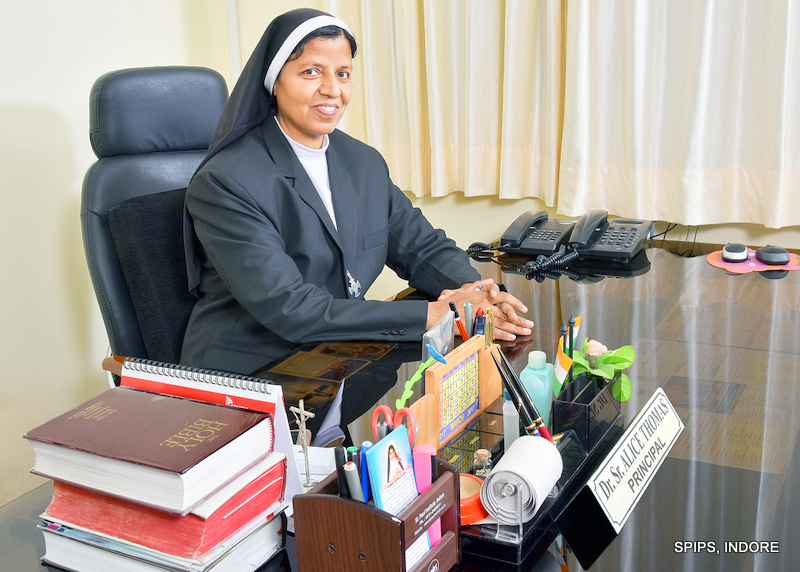 "All your children shall be taught by the Lord and great shall be the prosperity of your children."  Isaiah 54:13.
Dear friends,
Truly, education today requires passion, new knowledge, and innovative approaches, all of which you will find here at SPIPS. We endeavor to transform our students through a variety of programmes aimed at their character formation apart from nurturing their talents, be it academics, fine and performing arts or sports. To promote student success, we believe in fostering a shared-learning community that prioritizes communication, efficiency, safety, and respect. The faculty and staff provide an intellectually stimulating and emotionally enriching environment so that our students may develop confidence, critical thinking, leadership, creativity and responsibility.
"Happy are those who find wisdom and those who get understanding, for her income is better than silver, and her revenue better than gold." Proverb 3: 13-14. Our manifold efforts are aimed at enabling the students to seek, extend and apply knowledge to solve human problems, to continuously strive for excellence, to become more mature in approach, to be clear and firm on principles and to be courageous in action, to become agents of social change, to be unselfish in the service of their fellow beings and develop concern for the welfare of the poor and socially oppressed. . "Do not neglect to do good and to share what you have for such sacrifices are pleasing to God." Hebrews 13:16. Education without responsibility and service do no good. We strive to create an environment where these core values are taught, practiced and recognized at SPIPS.
Be faithful to God, be faithful to your parents, be faithful to your studies and be faithful to the nature. At SPIPS we believe that the college life should be enjoyed by studying, playing, working, praying and imbibing values. I invite you to explore our website to learn more about our values and commitments to get a glimpse of the exciting activities that engage our faculty, staff and students, and gain a sense of how you would thrive in our programs. Then, please visit our beautiful campus, where you can meet a wide variety of people, experience classes and engage in conversations, so that you can truly understand our campus culture and its potential to be a transformative experience for you.
"Education is transformation of self from what I can get to what I can give."  – APJ Abdul Kalam
May God bless you! 
Sr. Dr. Alice Thomas
Principal – SPIPS