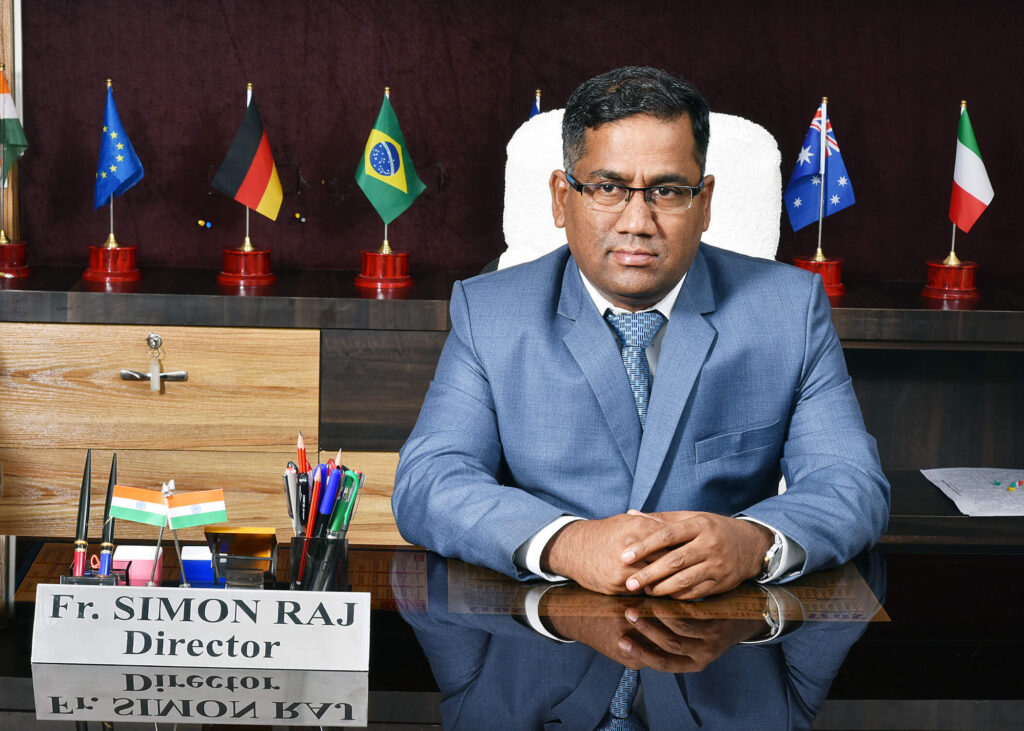 Rev. Fr. Simon is highly acclaimed for his Program quality Management skills. He was much appreciation for his Program Planning, Monitoring and Evaluation while working in collaboration with Miserere Germany, World Vision India, Caritas India, Caritas Spain, MPSSS, Child Line, CNL, MI, CRS to name a few. He spearheaded operations at different states like Orissa, Madhya Pradesh and Chattisgarh. He was also nominated as a panel interviewer for CBCI CARD, Delhi and Caritas India Employee Selection.
Rev. Fr. Simon Raj has extensive experience of working with International Relief and Development Agencies and Consultancies focused on poverty alleviation in the state of Madhya Pradesh. He has been leading Indore Diocese Social Service Society for the last 8 years as its Director and has been managing operation of 25 parishes, 210 villages, 50 slums, 78 Panchayats in three districts at Indore, Dewas and Dhar of Catholic Diocese of Indore. Fr. Simon Raj was the Parish Priest and Development officer from 2000 to 2006 at Chotta Bangardha, Airport area, Indore.
Much loved and respected as a Youth and Vocation Director Fr. Simon Raj worked for 10 years from June 2001 to July 2010. He was also a consultant with the Youth Rural Life Skill Development Foundation (YRLSDF) from July 2009 to 2010. Fr. Simon Raj was also the Program Coordinator of the Asian youth Cross at regional Level in 2009 and served as a Program Manager at the National and Regional Youth Convention in Indore & Bhopal.
Working as Freelancer Consultant at nine Diocese of Madhya Pradesh, he performed significant consulting reports on Social Development and Growth Management.
"Inspire & aspire to create enabling environment which encourages everyone to explore their max potential, promote self-esteem and life with dignity and knowledge"
Rev. Fr. Simon Raj is an effective communicator with proven team building abilities. Trained in Competence Assessment, he is able to draw the best from the people he works with. A people's leader he invests qualitatively in need-based capacity building of the human resources.
Having strong analytical and evaluation skills he has led qualitative scientific and social research nationally and internationally and published reports, manuscripts in peer reviewed journals, presentations at meeting and conferences, etc
Networking, linkages and advocacy is Rev. Fr. Simon Raj's forte. He excels in Conflict Resolution and Peace Building. Adept in financial management he was provided technical assistance for execution of various project work as superior and an external consultant and has been well appreciated for his efforts.