About
Vision and Mission
Our Patron
Courses offered
Fee
Beyond Classrooms
MBA@SPIPS
Programs Organized
Announcement
Faculty Members
About

Our Motto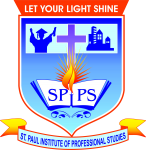 Let your Light Shine
St. Paul Institute of Professional Studies, Indore is happy to extend its wings by introducing MBA (Full Time) for the young professionals and entrepreneurs in its well equipped vibrant campus. St. Paul Institute of Professional and Management Studies affiliated to AICTE, New Delhi, DTE Bhopal, DAVV, Indore for the session 2022-23 will give an extra edge to the personality of the students by providing value based Quality Education, Industry Readiness and 100% Placement Opportunities.
Be the part of St. Paul Institute of Professional and Management Studies, Indore to ensure a successful career with multi-dimensional personality growth.
Vision and Mission
Our Vision
To form global citizens with Professionalism and Efficiency, Character and Commitment, who will take our nation and the world to Greater Heights.
Our Mission
To Nurture excellence and foster commitment in youth care, education, civil administration and corporate
To Equip society's next-generation leaders who are competent, dedicated and committed to excellence, equity and peace
To Network with regional, national and international organizations so as to harness resources and commitment in favor of solidarity, equity, development and peace.
Our Patron
Our Chairman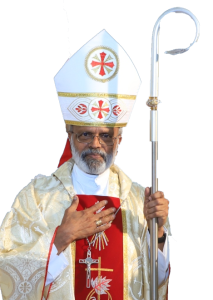 We are living in a fast changing world,a changing society, progressing at a galloping speed. It is the time for the youth to gear up for tomorrow, grabbing all the opportunities for a empowered and dynamic career and spread the essence of dedication and hardwork which will take them to great heights by ensuring growth both vertically and horizontally for the well being of the global society and the business world. SPIPS is expanding its horizon far and wide by providing value based quality education in the field of higher education. The degree in Master in business Administration would definitely groom our students into world class leaders of tommorow. The mission of St. Paul Institute of Professional and Management Studies will enable its Bonafides to become successful professionals and true human beings of character and commitment. May God Blessings are with you All
Most Rev. Bishop Chacko Thottumarickal (SVD)
Catholic Diocese of Indore
---
Our Director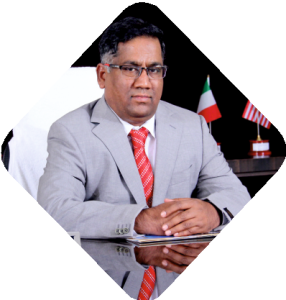 Arise! Awake! and stop not until the goal is reached – Swami Vivekananda
In the last few years, Indian economy has been growing at very high rate and presently, the whole world is looking at us. Our country has become one of the most preferred destinations of world-class companies, be it manufacturers or service providers. Increasing digitalisation has resulted in worthwhile employment and entrepreneurship opportunities for management professionals across the globe. The corporate sector all over the world is looking for professionals with conducive skills and profound knowledge.This encouraged the Catholic Diocese of Indore to enter into the field of Management Education with our uniquely designed MBA Programme through a new unit named as St. Paul Institute of Professional and Management Studies (SPIPMS). We aim at providing value-based, quality education while catalysing the overall growth of our students.I welcome you all to join the mission and shape future of forthcoming generation. May God BlessYou All!!
Rev. Fr. Simon Raj (Director)
St. Paul Institute of Professional and Management Studies
---
Our Principal
"Trust in the LORD with all your heart; and lean not to your own understanding. In all your ways acknowledge him, and he shall direct your paths."
Proverbs 3:5–6
St. Paul Institute of Professional Studies (SPIPS), a leading Institution with sturdy academic foundation seeks to mould students into victorious role models. The college successfully progressing step by step, adhering to the motto, 'Let Your Light Shine', has embarked into the arena of offering Management degree at post graduate level. We take pride in providing ace professionals, imbibed with Indian values and modern outlook to the society. SPIPS rests on the mighty pillars of Excellence and Ethics. In this highly competitive world, SPIPS stands as a beacon, emphasizing on instilling confidence, promoting critical thinking and providing atmosphere for augmenting intellectual, emotional, social and spiritual quotient of the students. Welcome to a portal engulfed with ethos of competence, discipline and character! Dr. Sr. Alice Thomas (Principal) St. Paul Institute of Professional and Management Studies
Courses offered
MASTER OF BUSINESS ADMINISTRATION
2 YEAR FULL TIME COURSE
4 SEMESTERS
Join us for our MBA programme and equip yourself with a broad professional base. The knowledge and skills acquired here will help to diversify across careers and aid to be versatile during the career shifts in today's dynamic business world.
SPECIALIZATIONS OFFERED
Marketing Management
Financial Management
Human Resource Management
Information Technology
Production and Operations Management
Business Analytics
Fee
Fee Structure for MBA
Beyond Classrooms
BEYOND CLASSROOMS (External Exposure)
Industry Visits and Industrial Exposure Tours Conferences, Workshops, Seminars and Summits
Live Projects and Research Based projects
Case Studies, Simulations Group Activities and Role Plays
Guest Lectures and Invited Talks
Scenario Analysis, Group Discussions, Quizzes, One On One Discussions
Training Interview Skills through Mock Interviews
Fine and Performing Arts, On Stage Events
Leadership Building through Management Games
Collaborations with renowned Educational Institutions for Student and Faculty Exchange and Development Programs
Inculcating Social Values Through Social and Charitable Activities
Collaborations with different NGOs.
WHAT SETS SPIPMS MBA APART?
VALUE BASED QUALITY EDUCATION DISCIPLINE SPECIFIC MANDATORY COURSES INTERNSHIPS
SKILL ENHANCEMENT PROGRAMMES ETHICS
PLACEMENT IN REPUTED COMPANIES
Add on Courses for Enhancing Employability Skills and Practical Knowledge:

Soft Skills for Managers (Language Training, Communication Skills, Personality Development)
MS Office and Advance Excel (MS Word, PowerPoint and Excel+)
Tally For Professionals
Digital Marketing
Graphics Design
Banking and Investment Management
Corporate Communication, Professional Etiquettes and Employability Skills
Import Export Management
Financial Modeling
Digital Technology Management (ML, DM and AI )
Business Analytics
Innovation, Business Models and Entrepreneurship
Rural Management
Social inteligence
Six Sigma and Lean Manufacturing
MBA@SPIPS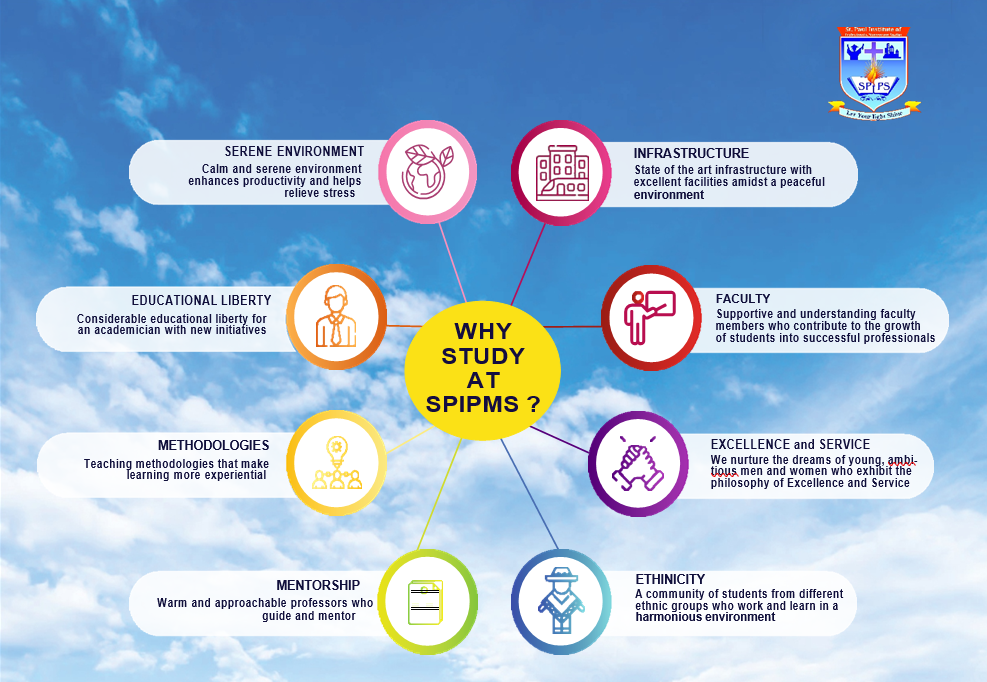 St. Paul a leading name in academic world of central India for more than a decade has now came up with a new rose of academic bouquet Master of Business Administration (Full Time) at St. Paul Institute of Professional &Management Studies, a power packed two year professional degree, which offers not only knowledge but an enlightened carrier and bright future. At SPIPMS we offer a combination of theoretical and practical knowledge which helps the students to groom according to corporate world, and make them industry oriented , Team of highly highly qualified and experienced faculties makes sure that the student is mentored properly and gets a blend of Education with Ethics, Carrer with Cultural value. We not only focus on education but education with excellence .
Programs Organized
Announcement
St. Paul Institute of Professional and Management Studies
Announcement
Faculty Members
Faculty Members
A Good Teacher knows how to bring out the best in Sudents – Charles Kuralt
Our specialized and dedicated faculty members make their best effort to ensure holistic development of our students. The PG Department of Management is blessed with sincere and devoted faculty members who ensure quality education through experimental learning – making our students industry ready.
---
Dr. Unmekha Tare
| | |
| --- | --- |
| Full Name (With title) | Dr. Unmekha Tare |
| Qualification (all details including Grad, PG, PhD) | Ph.D(Commerce) M.Phil.,M.Com,MBA,PGD( Management Information System) B.Ed. ,Certification in Guidance and Counselling |
| Designation offered | College Coordinator abd Professor |
| Work experience at SPIPS | 9 Years |
| Total teaching experience | 24 years |
| E_mail ID | unmekhatare@gmail.com |
| Area of Intrest (Subject or skills) | Finance and Human resource |
| No. Of seminars, workshops and No. Of Publications (if any) | More than 40 |
| Awards / Recognitions (if any) | 2nd Best Thesis Award and international Award for Best Research in Commerce Education |
Dr.Praveen Yadav
| | |
| --- | --- |
| Full Name (With title) | Dr.Praveen Yadav |
| Qualification (all details including Grad, PG, PhD) | B.Pharmacy,MBA,PHD |
| Designation offered | Training and Placement Officer |
| Work experience at SPIPS | 05 months |
| Total teaching experience | 17 years |
| E_mail ID | Praveenyadav1406@gmail.com |
| Area of Intrest (Subject or skills) | TRAINING AND PLACEMENT |
| No. Of seminars, workshops and No. Of Publications (if any) | 04/05 |
| Awards / Recognitions (if any) | TPO OF YEAR 2023 BY UNIVERSAL MENTORS |
Dr. Prashant Rao
| | |
| --- | --- |
| Full Name (With title) | Dr.Prashant Rao |
| Qualification (all details including Grad, PG, PhD) | Ph.D, M.B.A,, B.Com |
| Designation offered | Assistant Professor |
| Work experience at SPIPS | 6 Months |
| Total teaching experience | 17 Years |
| E_mail ID | Karan.singh17979@gmail.com |
| Area of Intrest (Subject or skills) | Marketing,Communication,General Managemant,Business Law, |
| No. Of seminars, workshops and No. Of Publications (if any) | 16 National And 7 International Publication |
| Awards / Recognitions (if any) | Best Faculty Award, |
Prof. Neeraj Swamy
| | |
| --- | --- |
| Full Name (With title) | Prof. Neeraj Swamy |
| Qualification (all details including Grad, PG, PhD) | B.com, MBA ( Marketing Management) |
| Designation offered | Assistant Professor |
| Work experience at SPIPS | 6 Months |
| Total teaching experience | 10 years |
| E_mail ID | neerajswamypimr1214@gmail.com |
| Area of Intrest (Subject or skills) | Marketing Management |
| No. Of seminars, workshops and No. Of Publications (if any) | 03 |
| Awards / Recognitions (if any) | |
Prof. Priyanka Jaiswal
| | |
| --- | --- |
| Full Name (With title) | Prof. Priyanka Jaiswal |
| Qualification (all details including Grad, PG, PhD) | B.Com  M.Com MBA(Finance) CFA  and Pusuing Ph.D |
| Designation offered | Assistant Professor |
| Work experience at SPIPS | 6 months |
| Total teaching experience | 10 years |
| E_mail ID | priya.pjaiswal@gmail.com |
| Area of Intrest (Subject or skills) | General Management and Fnance |
| No. Of seminars, workshops and No. Of Publications (if any) | |
| Awards / Recognitions (if any) | |
Prof. Priya Chandel
| | |
| --- | --- |
| Full Name (With title) | Prof. Priya Chandel |
| Qualification (all details including Grad, PG, PhD) | B.com, Mba(HR, Finance) |
| Designation offered | Assistant Professor |
| Work experience at SPIPS | 8 months |
| Total teaching experience | 8 months |
| E_mail ID | priyasngh1993@gmail.com |
| Area of Intrest (Subject or skills) | Related to Human Resource Management, Related to fitness Yoga,Dance and music etc |
| No. Of seminars, workshops and No. Of Publications (if any) | |
| Awards / Recognitions (if any) | |
Welcome to St. Paul Institute of Professional and Management Studies, Indore